It is an honor for us to represent Alpha Omega Publications (AOP) in Indonesia. Based in Iowa, USA, AOP is one of the leading American Christian curriculum providers with more than 35 years of experience in Christian education.

eDynamic Learning
Schools across the country have discovered the eDynamic Learning difference and how we can help meet the individual learning needs of today's online student. click here to view eDynamic Learning

ARC Reading Enhancement Program
ARC READING ENHANCEMENT PROGRAM A Comprehensive program designed to improve reading, spelling, comprehension and listening. Complete listening CD sets. Suitable for students as well as preparing teachers to shift to English-based curriculum.

Horizons Preschool
Curriculum set for Kindergaten-3 This curriculum has been carefully researched and based on the best practices for teaching the delighfully inquisitive three-year-olds. The student set consists of a Bible story reader, an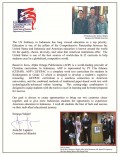 Foreword by USCS
USCS

LIBERAL ARTS EDUCATION
U. S. liberal arts education: The US education system is based on the idea of a liberal arts education, creating a wide, general knowledge base for future study. Students progress through high